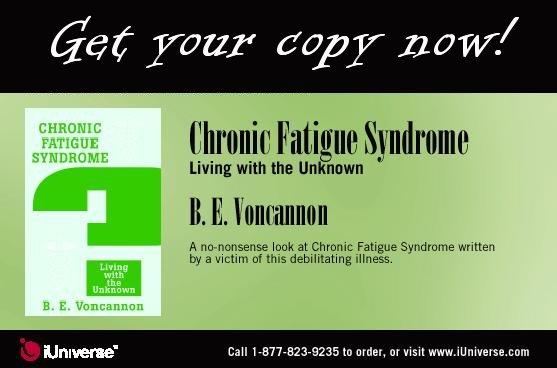 You may have heard of Chronic Fatigue and Immune Dysfunction Syndrome (CFIDS) or know someone that has it. You may even be afflicted yourself. There are numerous books available, but many often fail to answer simple questions directly so that you can understand them without being a doctor. You may have questions such as:
What exactly is Chronic Fatigue Syndrome or doesn't anyone know?
Is it real or just an excuse to be lazy?
Do all people have the same symptoms?
What is it like having this illness?
Is there a blood test that reveals this illness?
How exactly did it make you feel when this illness struck?
Does it only strike overweight, lazy people?
Why can't you just ignore it and go on with your life?
In Chronic Fatigue Syndrome: Living with the Unknown, you will be able to learn more about this mysterious illness from one who suffers from it personally.
No confusing medical jargon
No scientific statistics
No sales pitches for useless products
No promises of a quick cure
This book contains only the author's self reported case study laden with hard core experience gained while living with this disabling disease. The author will share, in detail, how he felt when it began, and what it did to him personally. The author also shares what he does to continually fight the illness. This book was written by a CFIDS patient for both others who suffer from it, and the medical professionals who may be treating them. This book was written simply to help others know that they are not alone in their daily battles with this horrid illness.
Although many are currently researching the cause and possibly a cure, this complex illness still baffles the medical community and the patients that suffer from it. Often times a patient leaves the doctor's office with a new diagnosis and no where to turn. The fear of the unknown can often be greater than the fear itself.
This book will give the reader an introduction to CFIDS as personally experienced by a former law enforcement/SWAT officer/Army Reserve veteran who had to take an early retirement simply because of this illness. You will not want to miss his story!
Chronic Fatigue Syndrome: Living with the Unknown ISBN 0-595-24182-4 $11.95 US by Brian Voncannon is available now. You may want to ask for it in your favorite local bookstore. They can order it for you. Don't let this book pass you by!
---
SIGN THE PETITION TO RECOGNIZE THE
GULF WAR RESEARCH OF TULANE UNIVERSITY
(you will be taking to another site to do this)
---
The author also recommends:
Life on Cripple Creek: Essays On Living with Multiple Sclerosis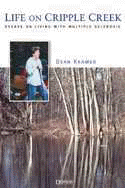 An easy-to-read book that gives one a glimpse into the world of chronic illness, in this case, multiple sclerosis. Dean Kramer has a writing style similar to myself, which allows anyone to grasp the material and take a journey into a very difficult life. With a hint of humor, this book will open your eyes to one's battle with a horrific illness. You won't be disappointed! ---B. E. Voncannon
To view a sample chapter, click the book cover to the left.
Published by Demos Medical Publishing.
---
The National Invisible Chronic Illness Awareness Week SiteRing

This site owned by
B. E. Voncannon
SiteRing by Bravenet.com
---
Visit EveningStorm Studio for your Radio Production Needs!
Effects, Music Beds, and Acapellas on Sale!