About the Author
---
Back to Main
---
Press Kit
---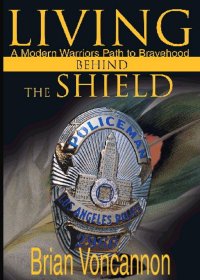 .
As I spent more and more time as an officer, I often thought of what I was taught at the Police Academy. Although, I feel as though I had the best training in the world(a hint of pride here?), I still felt that there was something missing. I am not talking about the basic curriculum of the academy, but what you are generally not taught. These things fall under a category all by themselves. This book focuses on that area.
The new officer, or potential officer, is about to embark upon a great journey. Most have no idea what they will face or what they will be taught. Many don't understand the difficulty that lies ahead. For the most part, they become lulled into a dream that involves action and adventure. Surely, these can and usually do come at one time or another, but there is much more to being an officer of the law. Of course, I am as guilty as anyone. Many of us have experienced the desire for the "rush" of such an adventurous and dangerous job. Still, we overlook some very important aspects. Have you ever heard that all things have a price?
Before you draw any conclusions about where this book is going, let me clarify. This is not an anti cop book. It is written by a law enforcement officer for the future or veteran officers out there today. This book will simply deal with the unwritten, until now, aspects of this honorable profession.
While this is not necessarily another book about law officer stress, it does touch on such a subject. Without giving you too much in advance, I will say that this book will cover my views and opinions about what this profession means to me and the difficulties that officers face each day. The goal of such a text is to inform both officers and the general public that law enforcement personnel deal with much more than you think. You will have to read the book to find out why this does not stop when the uniform come off at the end of the shift.
I knew that when I wrote this book that it would probably not make me rich and famous. Of course that was not my goal. There is a message in the final chapter of this book that will enrich every officer's life, as well as anyone who reads it. It covers the officer's commission from God to be a minister to those that we contact everyday. It also explains the plan of salvation that God has presented to us as a gift. When I wrote this book, I asked God to make it shine, so that His message would also shine. If that happens, then there is no amount of fame or fortune that could compare!
Thanks for your time and interest!
Brian Voncannon
author



Book stores, book clubs, and libraries should contact:
iUniverse.com, Inc.
620 North 48th Street
Suite 201
Lincoln, NE 68504-3467
1-877-823-9235
iUniverse.com Bookstore

---