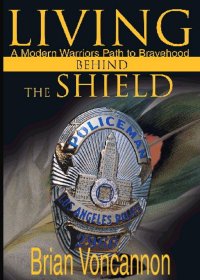 .
To My Readers:
I would like to take this opportunity to thank each and every one of you that has taken the time to purchase and read my book. What makes an author both successful and proud is his or her readers. Without your interest, this book would not have made it to where it is today. Although it has a long way to go, the accomplishments are truly amazing to me! Without God's help, I would not have written it at all to begin with!

I could not complete this page without saying a few words directly to my fellow officers, which includes every officer that visits this page. This book was written for you to remind us all that we are still human. It also stresses the fact that we struggle everyday with many things that those outside of our field do not know about. It is meant to give you an uplift when maybe you are feeling alone in your daily battles. No one understands an officer of the law better than another officer. Maybe you do not agree with many things that I state in this book and that is okay.
Just remember that God has called us to do a very important job and we should not take it lightly. It can sometimes test your patience and make you want to give up at times, but you are not alone. Living behind the shield is an awesome responsibility and you have chosen to accept it. Often times you may feel as if no one appreciates what you do since we mainly deal with the dark side of reality. The things we see can lead one to believe that there is little good left in the world. However, that is an illusion. There are many good things still out there and many fine people who do appreciate what you do. Don't let the bad spoil the good! God teaches us to overcome evil with good and that should be your goal.
Those of you who are in leadership positions at your departments have even a greater responsibility. Not only do you take care of the streets, but also the officers beneath you. Whether you know it or not, many young officers will look at you as an example of how they want to be. They pay much closer attention to your actions than you may think. Your job is even harder since you have twice the work as most others. Keep the faith!
To those officers that I work with personally, especially my teammates, I thank you all for your support and friendship.
VC




---